Custom Foam Inserts
Custom foam inserts are an optional extra for the inside of your Peli Case. They are manufactured to fit the precise shape of your equipment giving your case a great look and maximum protection.
Why do cases need foam?
Foam plays a pivotal role in protecting the contents of your case. A foam interior gives your equipment the cushioned protection it needs while in transit and helps to protect your items against shock and vibration as well as unexpected mishandling. It can be utilised in the main body of the case as well as inside the case lid so that your equipment is surrounded by foam in all directions.
What is standard foam?
The majority of Peli Cases and Storm Cases can be purchased pre-installed with foam. These are standard foam inserts manufactured by Peli, often Pick N Pluck™ foam. (To read more about standard case foam, click here.)
Why choose custom foam?
Custom foam is different. It's a bespoke option that provides a higher level of protection for your equipment than standard Pick N Pluck foam. It also offers a more attractive appearance which is useful if you are looking to make a strong impression.
Protection
Custom foam is particularly useful for cushioning intricate parts and high value equipment. When you order custom foam, we design and manufacture a foam insert that is tailored specifically to your needs. First and foremost of course that means we create cavities that fit the precise shape of your equipment. But it doesn't end there; we also take into account other factors such as your product's weight, its fragility, functionality and the ease of packing or demonstrating.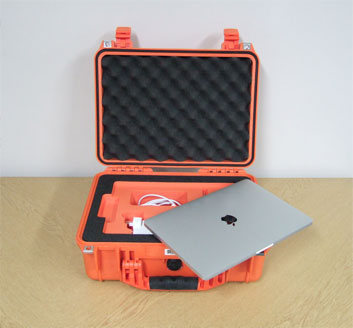 Presentation
In addition to its superior protective qualities, a custom foam insert means we can do more with the way your equipment is presented too. For instance, different coloured laminated foams allow you to extend your brand identity from the outside of the case to the inside. A particularly nice effect is colour contrasting which involves using one colour for the top few millimetres of foam and a different colour for the cavities. Known as shadow foam, it lets you see at a glance whether an item is missing - invaluable if your case is going to hold multiple tools and instruments. We can also laser etch into the foam or adhere a printed panel. This is a great way to enhance your brand, especially when combined with graphics on the case itself.
Interested in a custom foam insert?
Head over to SAM Cases for more information and a free quote.