Pick N Pluck Foam
If you've been looking at Peli™ cases you may have noticed that most come with something called Pick N Pluck™ foam.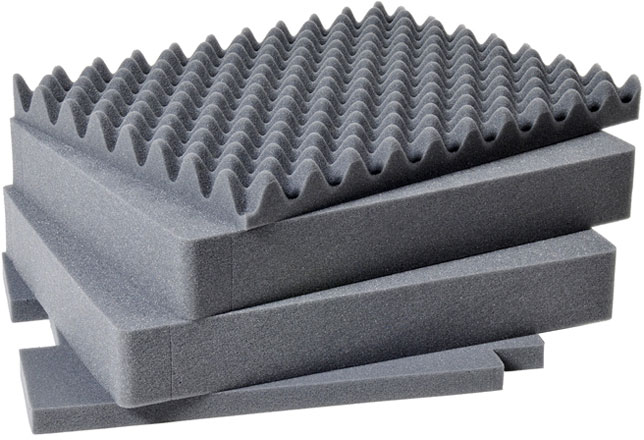 What is Pick N Pluck foam?
The majority of Peli Cases and Storm Cases can be purchased pre-installed with foam. These are standard foam inserts manufactured by Peli. The inserts comprise of three parts:
Lid foam
Base foam
Pick N Pluck foam
The first two are fairly self explanatory: lid foam helps to protect the top of your equipment from the case's lid while it's shut. (Lid foam is convoluted which means it has a distinctive 'egg box' appearance for easier airflow.) Base foam is a single solid layer of foam that you place - you guessed it - across the bottom of the case to cushion the underside of your equipment.
Pick N Pluck is the main foam component that sits in the body of the case, directly on top of the base foam. It's a do-it-yourself system that consists of one or more layers of lightly scored, pre-cubed foam which you can pick apart and shape to fit your equipment. Simply lay your equipment on top of the foam, mark its outline on the foam (e.g. using chalk, tape or pins) then pluck away. It's recommended that you allow at least 2.5cm of foam between your equipment and the case wall.
How much foam comes with the case?
When you choose the standard Foam option with a Peli case, the number of layers of Pick N Pluck foam shipped with it depends on the particular case you have chosen. So for example, a taller case such as the Peli 1440 contains more layers of Pick N Pluck foam than a shorter one such as the Peli 1200.
Do all Peli cases have a Pick N Pluck option?
Most, but not all. The foam option on some of the longer-shaped cases such as the 1770 Peli Case and the iM3300 Storm Case use solid foam instead of Pick N Pluck. That's because these cases tend to be used in a different way to other cases in the Peli range.
Why would I need a replacement foam set?
It's not uncommon to want to re-use your Peli Case for different pieces of equipment. When you do this, it's more than likely that you'll need a fresh new foam interior to protect your equipment. Luckily you can buy replacement foam sets by themselves for most of the cases in the Peli and Storm ranges. The other reason you might want a new foam set is if you have damaged your existing one. Whatever the reason, you can order replacement foam sets from us (along with divider sets, lid organisers and other Peli accessories).
What about a more precise fit?
The standard foam option is a great, economical solution that allows you to shape the cavities yourself. However it is not suitable for everyone. In fact many people choose a custom foam interior instead due to its more intricate profiles and superior protective qualities. With custom foam, we manufacture your foam specifically to fit your equipment - the size, the shape, the weight, and so on.
» Take a look at the custom foam option
Not sure what you need?
Simply call us on 01275 866 366 Mon-Fri or click here for a free no-obligation quote. We'll do our best to advise you on your best option.